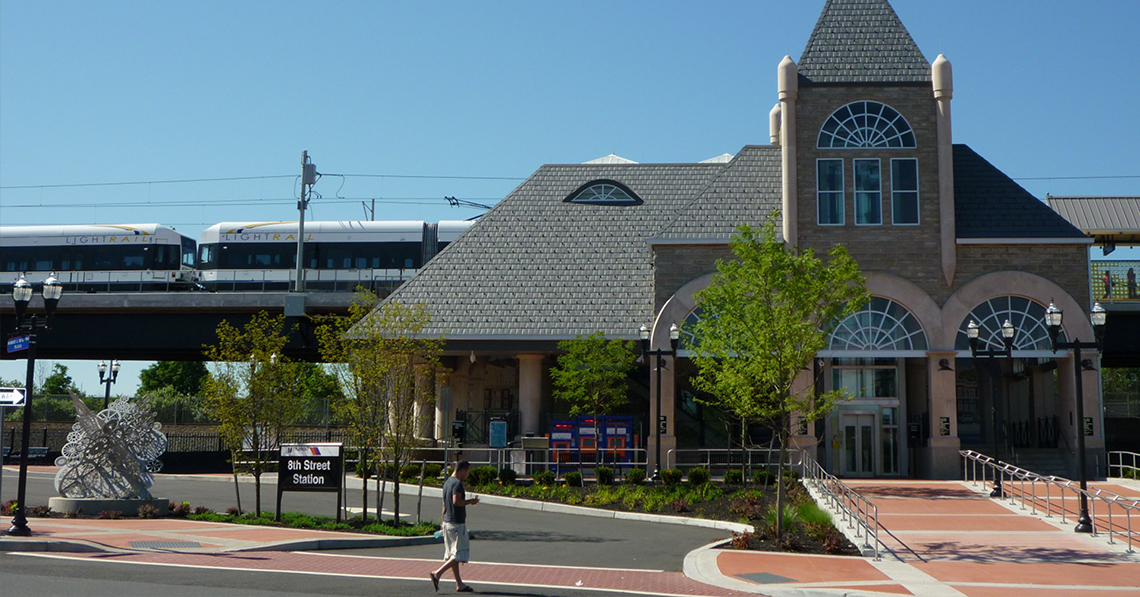 LIGHT RAIL
The Hudson-Bergen Light Rail, is a popular form of transportation.  The HBLR has stations in the following locations in Bayonne.
8th Street, Avenue E at East 8th Street.

 

The closest stop to Boatworks.

 

Exit at 8

th

Street Station and proceed west on North Road to Boatworks.

22

nd Street, Avenue E at East 22 Street.

 

Park and Ride
34th Street, Avenue E at East 34th Street.

 

Park & Ride

45th Street, Avenue E at East 45th Street
The Hudson-Bergen Light Rail has stops throughout Jersey City, Hoboken, Weehawken, Union City and North Bergen.
Northbound service from Bayonne runs through Jersey City, mostly near the waterfront, to Hoboken Terminal. Connection to PATH trains to midtown Manhattan and to New Jersey Transit commuter train service are available at Hoboken Terminal. Transfers to PATH trains to Newark, Harrison, and downtown Manhattan are available at Exchange Place.
Other parts of the system can be accessed via transfers.
The Tonnelle Avenue (in North Bergen) and other stations north of Hoboken Terminal can also be reached by transferring at stations between Liberty State Park and Pavonia-Newport for the West End Avenue-Tonnelle Avenue route.
The Liberty State Park station is a transfer point for those traveling between Bayonne and stations on the West Side Avenue (Jersey City) line.
BUS
Coach USA 99S runs to the Port Authority Bus Terminal in midtown Manhattan, New York City via JFK Boulevard Bayonne.  Boatworks is less than 5 minutes away from the closest bus stop
The Journal Square Bus local #10 Bus runs to New York City Port Authority Bus Terminal via Jersey City Heights, Journal Square and JFK Boulevard Bayonne. 
The NJ Transit 120 runs between Avenue C in Bayonne and Battery Park in downtown Manhattan.  Boatworks is 7 mins away from the closest stop.
Bus 119 runs along JFK Boulevard to Jersey city.   
Bus transportation is also provided on three main north-south streets of the city: Broadway, Kennedy Boulevard, and Avenue C by several private bus lines.
The Broadway line runs solely inside Bayonne city limits from 1st Street to 63rd Street, city line.
CAR
From NJ Turnpike take New Jersey Turnpike North or South to Exit 14A.   After toll booth follow signs to Routh 440 South to the Avenue "A" Exit.  Turn right at the stop sign onto Avenue "A".   Proceed on Avenue "A" to North Lane.  Turn left on North Lane and follow the road to Boatworks.